top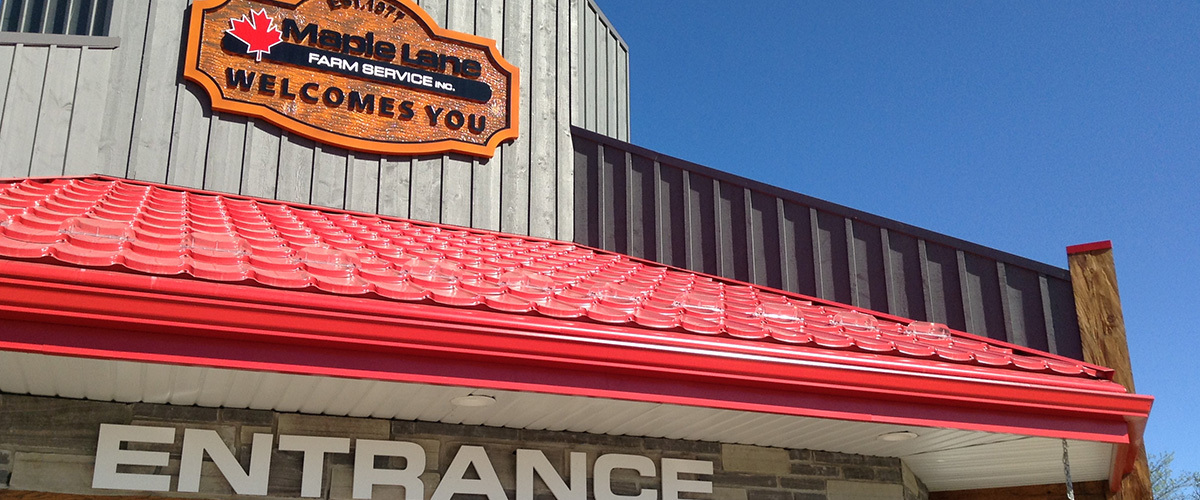 About Us
Maple Lane Farm Service is a full service farm and construction equipment dealership located near Mt. Forest, Ontario. We offer parts, sales and service for a broad variety of equipment and brands, including Fendt, Massey Ferguson, Challenger, Sunflower, White Planters, Gehl, Manitou, Hardi, and more. It's always our intent to serve our community and our customers with integrity, knowledge, and enthusiasm. Equipment sales are backed up by a service team ready to service what we sell. We also have an on site fabrication and machine shop, equipped to repair or build to your requirements. You're very welcome to drop in to see our large inventory and meet our staff. We are open 7-6 Mon-Fri, and 8-4 on Saturdays. Sales appointments are required on Saturday afternoons.
Our Team
Precision
Accounting
Marketing
Tech Team
Our History
Abner Wideman starts an equipment repair business on his farm as a sideline.
The business outgrows the farm shed. Abner decides to make the farm equipment business a full-time venture and sells the farm.
An 8000 sq. ft. facility is built on a lot retained from the farm.
Maple Lane acquires the Deutz-Fahr tractor dealership.
A 3000 sq. ft. shed is built; a feed supply business is started.
Deutz-Allis Corporation is formed when Deutz-Fahr (KHD) purchased the Allis Chalmers Company.
The feed supply business is replaced by lawn and garden sales and service.
AGCO Corporation (Allis-Gleaner Company) is formed when the North American management team of Deutz-Allis Corporation buys out the company's North American operations.
After working in the company's fabricating division for 4 years, Harvey Bowman becomes a partner in the business and joins Abner in the sales department.
Maple Lane begins selling the AGCO Allis tractors.
AGCO acquires the Hesston hay product and White tractor lines.
Maple Lane begins selling Gehl agricultural and construction equipment.
Maple Lane begins selling Hesston hay products.
Maple Lane begins selling the AGCO White tractor line.
AGCO acquires Massey Ferguson's worldwide holdings.
Maple Lane begins selling Hardi sprayers.
AGCO purchases Fendt, a German tractor manufacturer recognized as a world leader in advanced tractor technology.
Maple Lane purchases additional acreage to increase yard space.
After working as a company mechanic for 5 years Murray Wideman becomes a partner in the business and assumes the role of service manager.
Maple Lane begins selling the Fendt tractor line.
Maple Lane obtains the Deutz-Fahr (SDF) dealership.
AGCO Allis and AGCO White lines are merged into the AGCO tractor line
The lawn and garden repair business is discontinued.
AGCO acquires Sunflower, a tillage and seeding equipment manufacturer based in Kansas.
A 4,200 sq ft addition is added to the original shop.
Maple Lane begins selling the Sunflower tillage and seeding equipment.
Maple Lane begins selling the Massey Ferguson compact and low hp tractor line.
A new wash bay facility and storage area is added to the existing building.
AGCO discontinues production of the orange AGCO tractor.
Maple Lane becomes a full line Massey Ferguson dealer.
A new 12 000 sq. ft. building is erected to accommodate Maple Lane's fabricating business, machine shop, equipment assembly area, and warehouse.
Maple Lane purchases adjacent property for extended equipment display area.
The original building is revamped with expanded showroom, parts counter, parts shelving, and 5 new service bays.
Maple Lane signs the Manitou contract which opens the doors to a broader telehandler market.
Murray Wideman takes the Deutz-Fahr and Kvernland brands to a separate facility called Minto Ag.
Maple Lane extends the show room and brings the sales offices downstairs, offering better accessibility and more space on the retail floor.
AGCO opens its new parts warehouse in Woodstock, ON, providing a larger supply of parts and closer service and sales training.
Maple Lane expands the machine shop both in floor space and tooling, increasing the speed and range of work that can be done.
AGCO releases the Fendt 1000 which delivers up to 500 HP, creating an entirely new power segment of row crop tractors.
AGCO finalizes a deal to acquire Precision Planting, bringing the precision row unit and 20/20 SeedSense monitor to the White Planter brand.
Maple Lane buys an adjacent 5 acre parcel in July and significantly expands the equipment yard.
Maple Lane signs the Challenger brand contract, adding diversity to the tractors for sale.
Maple Lane adds 23000 sq ft of service shop, greatly increasing the service capacity.
AGCO introduces the Fendt 900 Gen 6 Series row crop tractor which is modeled after the success and technology of the 1000.
Maple Lane is joining harvest by selling the Fendt IDEAL combine.
The fabrication shop adds a MVD Laser for precision cutting and greatly improving the fabrication ability.
Maple Lane added the Fendt track tractors to its offering.