top
Gehl: The Best in Skid Steer and Construction Technology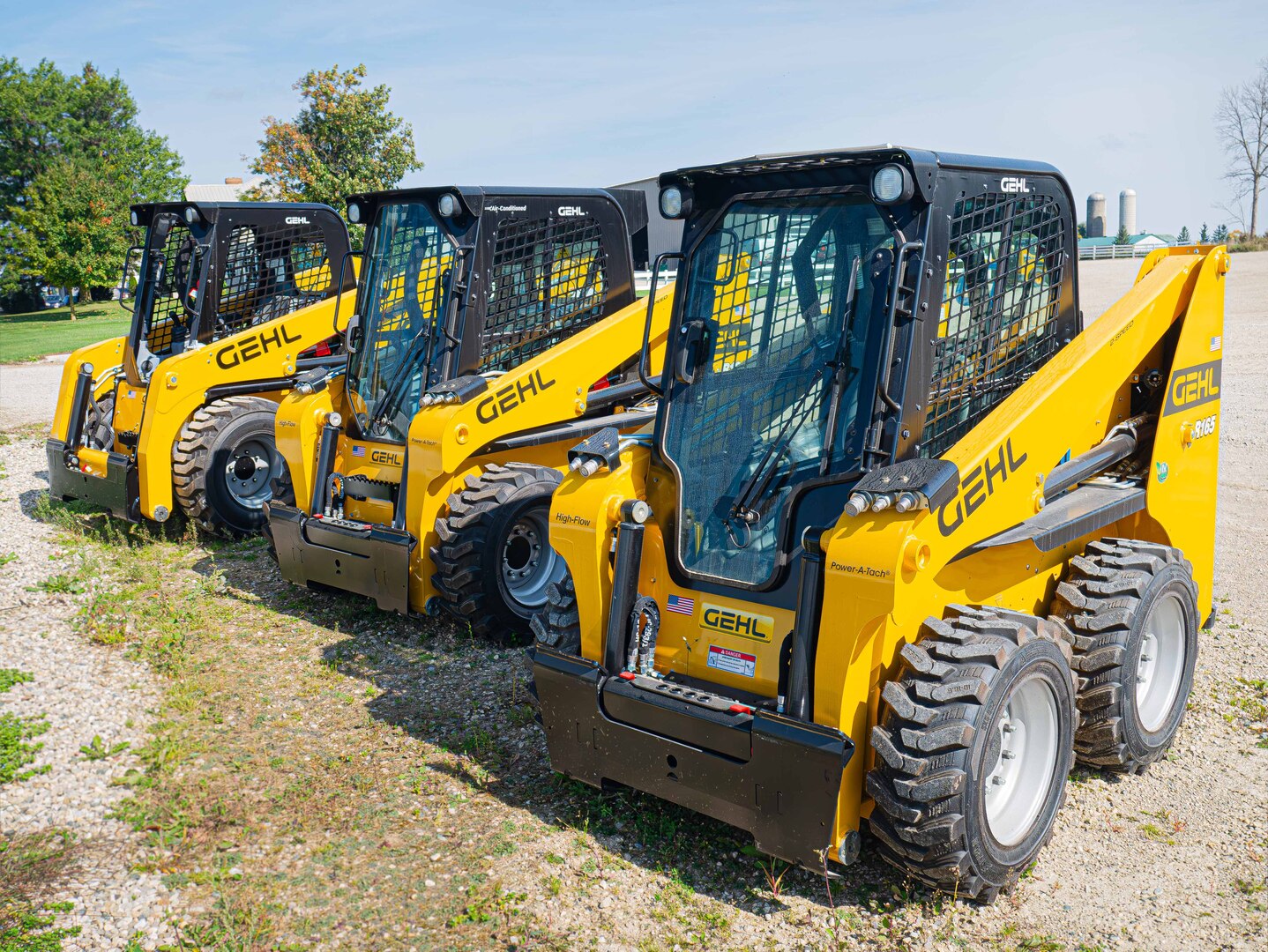 Gehl makes the best skid steers on the market. Their history goes back to the 1850's as a farm equipment manufacturer. They specialize in material handling machines.
Gehl is always building machines that reduce your workload. Their skid steers are the perfect combination of high lift capacity, versatility, and technology.
They offers their customers excellent service. They have remote monitoring on their equipment, warranty extension, and even a Total Cost of Ownership calculator. These all help you be more efficient, and work with less machine down time.
Gehl is making equipment that works hard, and can accomplish a lot. This is the perfect skid steer if you're looking for great lift capacity in a small package. Contact one of our sales representatives for more details.
Gehl Skid Steers
Versatility
Gehl Skid Steers are versatile machines. They let you accomplish many tasks with one machine. They can maneuver in tight places because of their "zero-turn" radius.
These options make them ideal for farms and construction applications. The high lifting capacity also works well in industrial applications like moving pallets.
Safety
Gehl skid steers meet the most strict safety requirements. The cab protects the operator from rollovers or harm from falling objects. The seat is pressure sensitive so the machine only runs when the operator is sitting down, and the doors are heavy duty to protect against debris.
The windows allow for great visibility, and the cab is comfortable so the operator experiences less fatigue.
Low TCO
Cost of a machine is extremely important. Fortunately, Gehl is constantly innovating to keep these costs low. They factor the total cost of ownership, so you know what it will cost long-term before you buy. This means total transparency for you and allows you to plan for the future and your next machine.
Gehl Skid Steer Models
Track Loader Models
Attachments
Attachments let you accomplish more work with one machine. You need to accomplish a variety of jobs, so they provide you with a variety of attachments. You can attach them quickly and simply, saving you time. Contact one of our sales team to learn about available attachments.
The Gehl Difference
Connected
Gehl machines have remote monitoring on their equipment. This allows you to track and share machine data with their support team. By doing this, you can anticipate maintenance and understand how your machine is doing.
There is a warranty extension for anyone with a Gehl Connected machine.
Gehl TCO Calculator
The Total Cost of Ownership calculator lets you visualize the long term cost of a machine before purchasing. Initial cost is important, but there is more to consider. Gehl lets their customers investigate total cost so they can factor that into their budget as well.
Replacement Parts for your Gehl skid steer
When your machine breaks down, you want authentic Gehl parts to extend the life of your machine. These parts keep your machine running smoothly, and protect your original warranty.
Extended Warranty for your Gehl skid steer
Any Gehl Connected vehicle comes with a 2 year 2,000 hour warranty. They also offer up to 6 years or 6,000 hours of warranty extensions. You have the option of choosing essential coverage, or total coverage.
Essential Coverage- Covers all essential aspects of the powertrain, like the engine, transmission, and axles.
Total Coverage- Covers all electrical, powertrain, electronic, and hydraulic parts.
This is just another way Gehl is letting you choose the options that work for you.
Check out the Ultimate Guide to Skid Steers here!
More Gehl Equipment