top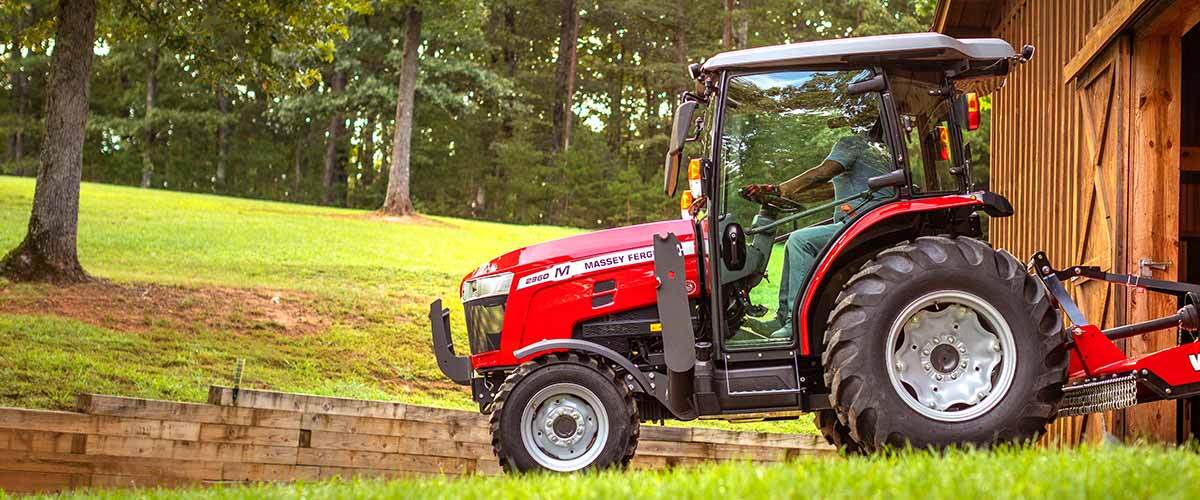 Massey Ferguson 2800M Series Tractor
Work in style with a Massey Ferguson 2800M Series compact tractor. These tractors are the largest compacts Massey offers. They come complete with all the benefits of a premium series. A cab provides full season comfort, and the tractors are simple enough to just get in and drive. You will have the power and maneuverability you need to work around your property. Here at Maple Lane we want to connect you with the proper solution for your job. Turn to do projects into done projects with a Massey 2800M compact tractor.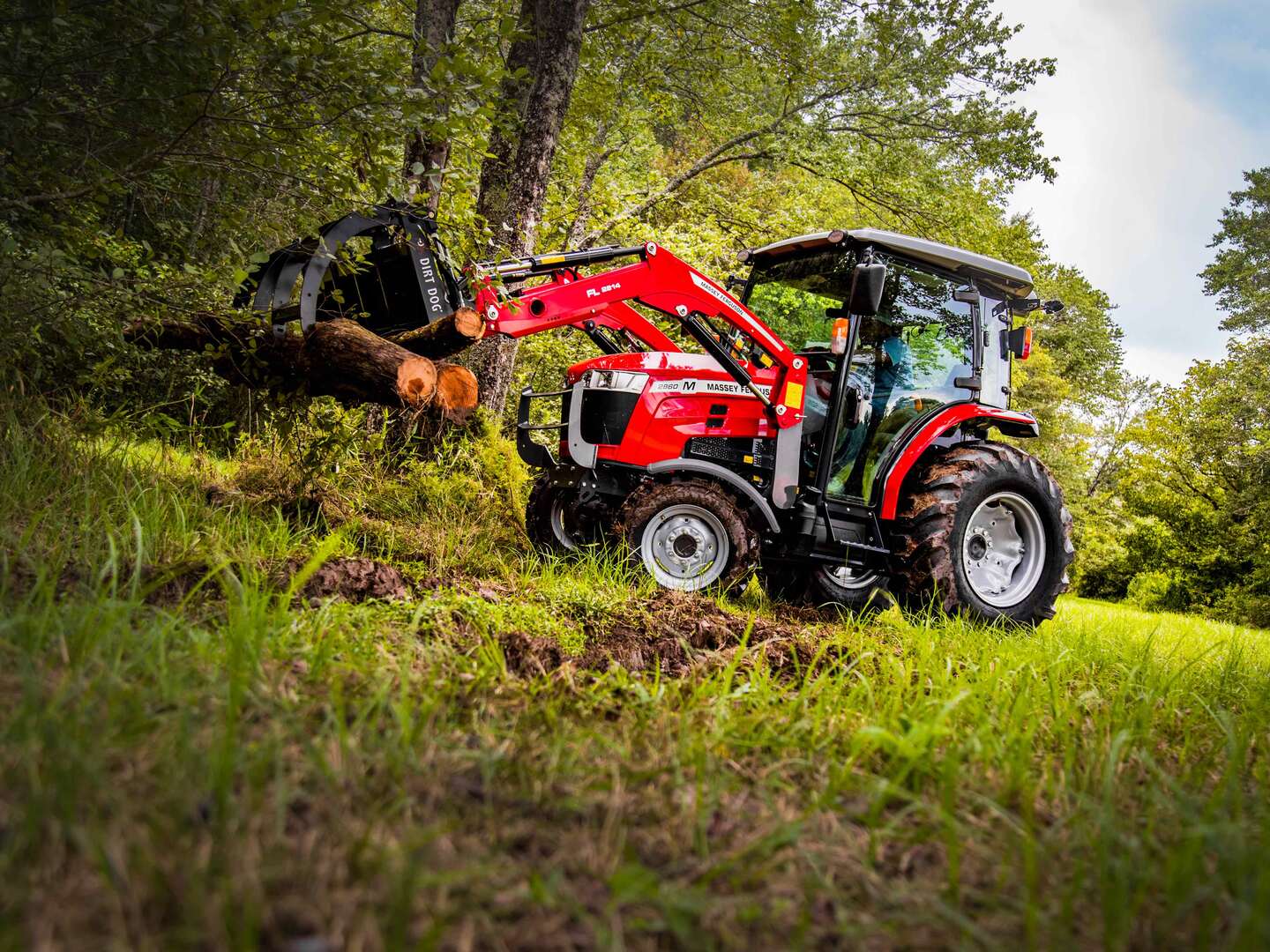 2850M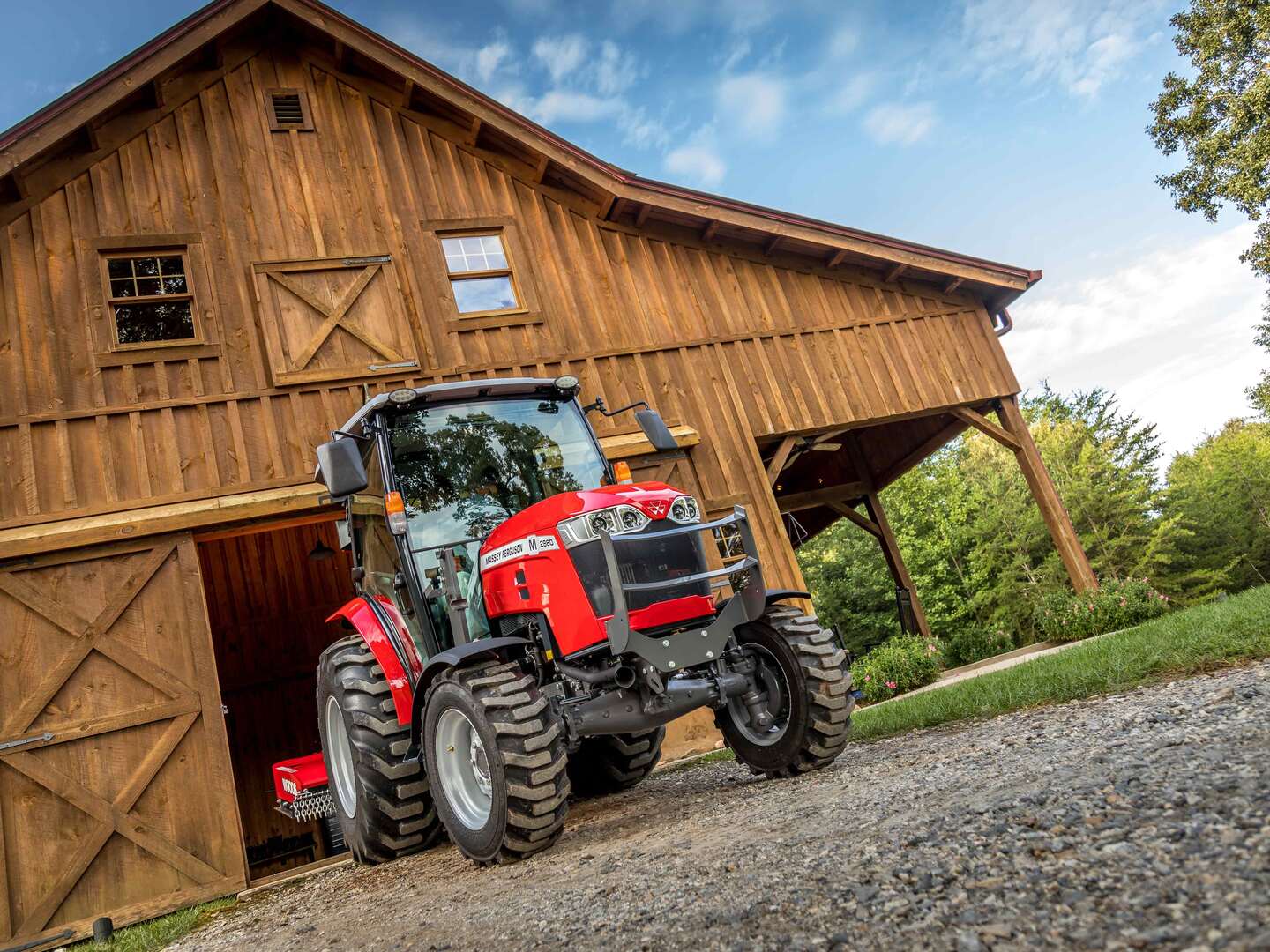 2855M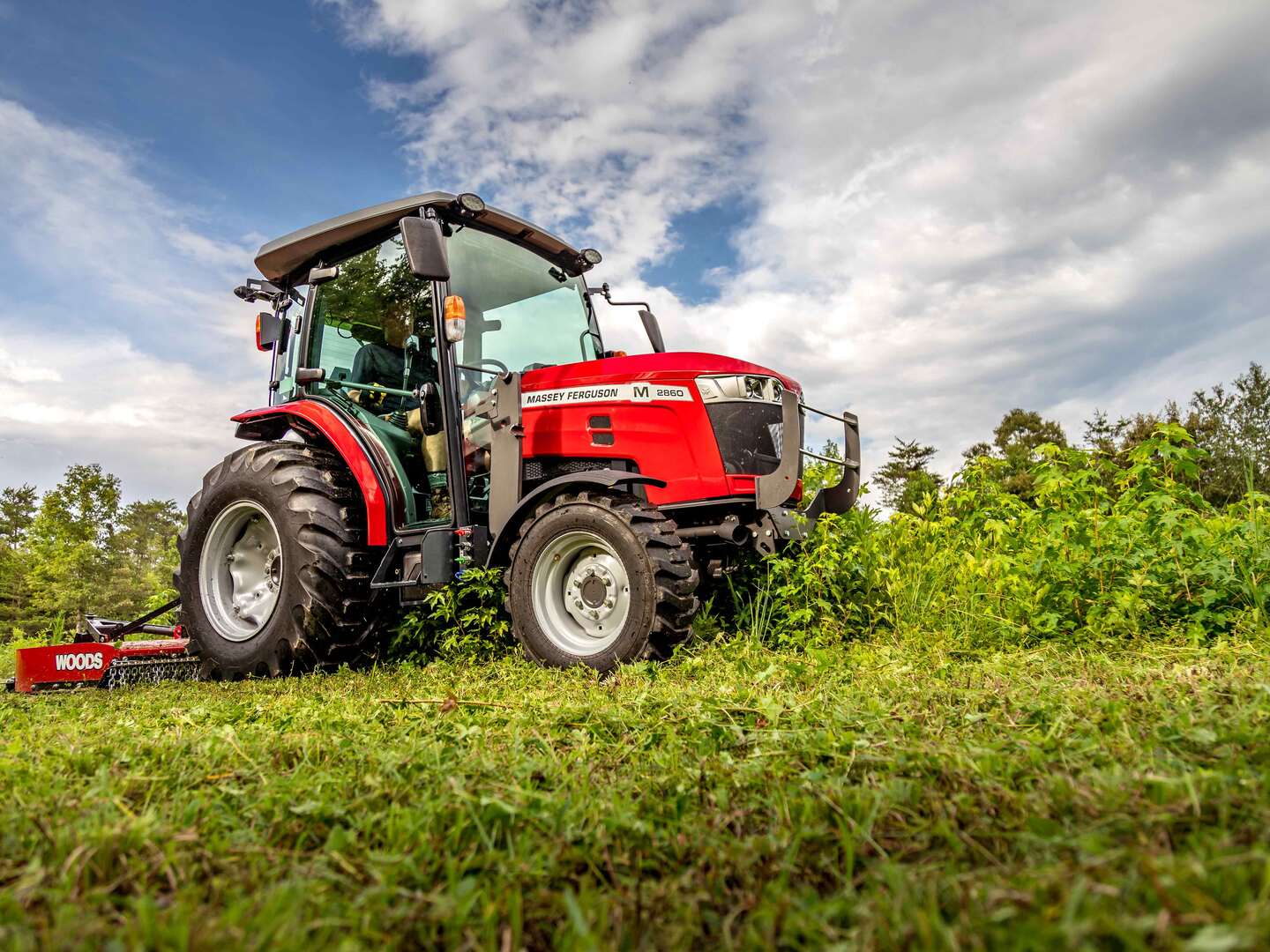 2860M

A 2800M series tractor is the tool you need to take on all your outdoor chores. They are easy to use tractors. Do your landscaping, pull a mower, haul logs, run a splitter, move firewood, or blow snow.
Buying a compact is a big investment. When you go with Massey you can have confidence in the long term durability of your tractor. It will work now and for years to come.
You can order all 2800M models with a 12 x 12 Power Shuttle Transmission.
There is a electro-hydraulic shuttle lever on the left side of the steering column. It transitions from forward to reverse without the use of the clutch. This saves a lot of effort when switching direction. There are 3 speed ranges and the dash has a digital speedometer.
A 3 range hydrostatic transmission is available on the 2850M and 2860M. This intuituve option has comfortable side-by-side forward and reverse pedals. The auto throttle feature speeds up the engine as you push the pedal.
You can set the top speed with a "Max Speed Dial". This will set an upper limit on the tractor's working speed. The dash has a digital speedometer.
There are two hydraulic systems on the 2800M series. You will always have good power and response when you use hydraulic functions. One pump services the power steering and the other services the remotes and linkage. One rear remote is standard on all cab models.
You have the option of installing three remotes. This will greatly increase the amount you can do with this workhorse.
A power take off (PTO) shaft is necessary for implements to get power. An independent engine driven rear PTO is standard on all 2800M models.
The PTO has what modulation control. This allows for a low-impact start up of the PTO. Without this, you could damage the PTO or implement. The PTO is electro-hydraulically engaged.
A mid PTO is optional. It allows front mount implements to have power. You can use it in tandem with the rear PTO. A switch on the rear fender engages the PTO when you are out of the cab.
There are four tire types available on from the factory. There are ag, turf, industrial, and Nokian.
The ag (R1) tire is for running in fields. It has deep lugs for pulling a lot of weight and keeping traction. The turf (R3) tire is for yard travel. It is the least aggressive and works well in dry conditions and finishing operations.
The industrial (R4) tire is the most common preference. It has a shallower lug and is good for all conditions like, snow, mud or grass and provides grip without ruts. The Nokian branded tires are narrower, more suited to travel and work well for dirt and snow.
Platform features include:
Metal hood, platform, and fender
Fully flat platform with rubber floor mat
Tilt steering wheel
Integrated loader joystick
Ground level fueling
Analog and digital dash display
Suspended seat with armrests
Foot throttle (12×12 Power Shuttle only)
Standard cab features include:
Heat and air conditioning
Pre-wired for radio and speakers
Front and rear windshield wiper/washer
Two lockable doors
Right and left external mirrors
Rear and side opening windows
Cab mounted front worklights
Cab mounted rear worklights
The 2850M and 2860M HST models offer a deluxe cab optionwith a few more comforts.  These include:
Air ride Grammer seat
Bluetooth/CD/MP3 radio
Four LED cab-mounted worklights
Rear window defroster
Brake lamps
Overhead mesh storage pocket
Front window scissor sun screen
The three main tools paired with a 2800M compact are a loader, backhoe, and snow blower.  The FL2814 loader brings tremendous versatility to your machine.  Now you can lift and carry in applications that are practically endless.  A CB85 backhoe is a serious digging tool.  It increases the jobs your tractor can tackle.  The backhoe is good for things like digging trenches and removing stumps.  With a 74″ MF 1507 front mount snow blower, you are ready for winter.  The blower on the front is a comfortable way to clear the snow.