top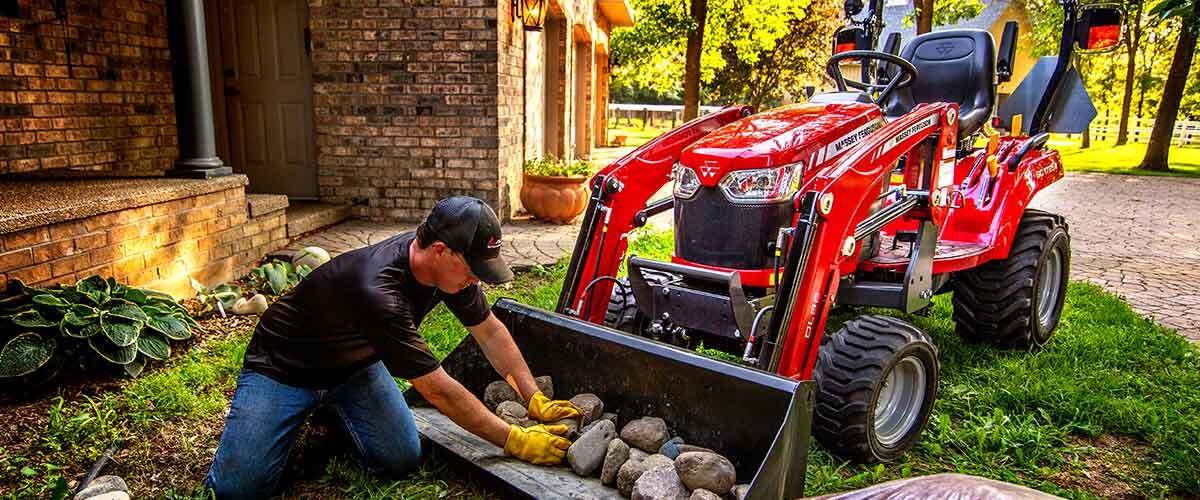 Massey Ferguson GC1700 Series
A Massey Ferguson GC1700 tractor is the single compact machine you need to get ahead of all your work. With one tractor you can mow the lawn, landscape the flowerbed, till the garden, and tackle winter snow removal. These compact tractors are a simple, versatile, and powerful workhorse. If you are ready for a real tractor, check out the Massey Ferguson GC1700 here at Maple Lane. Our sales staff are ready to talk through your needs and match a tractor with the goals you have.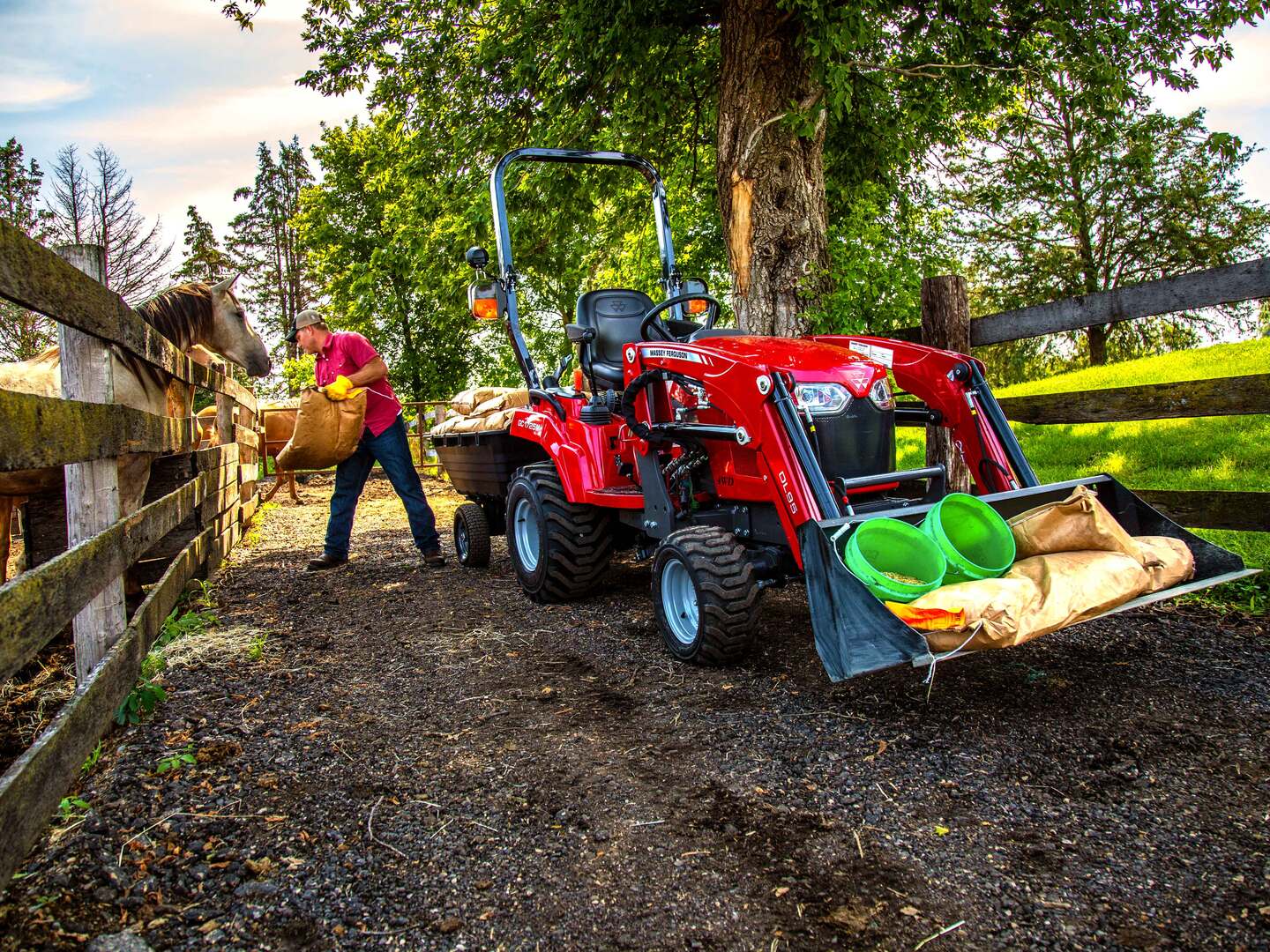 GC1723E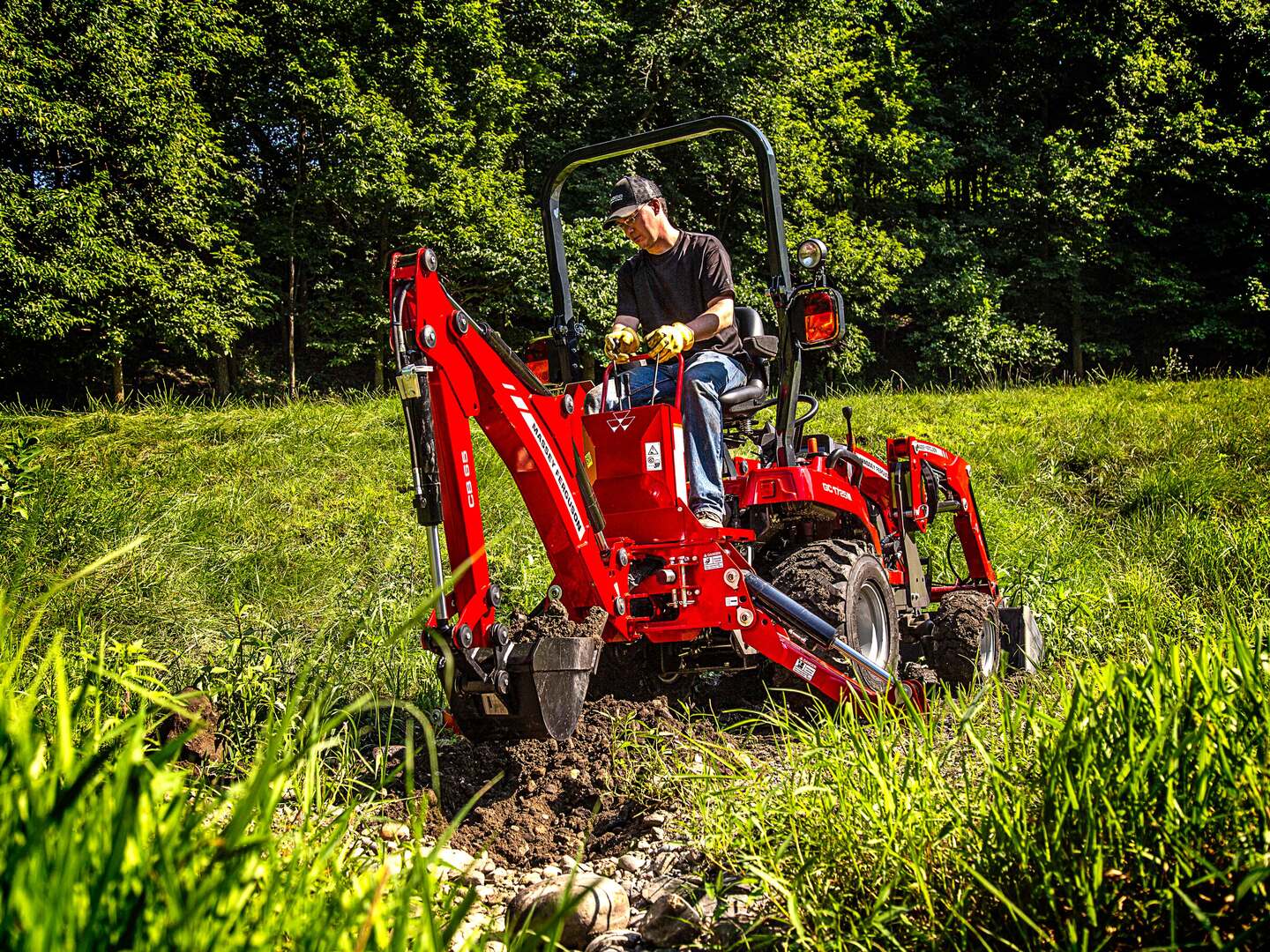 GC1723EB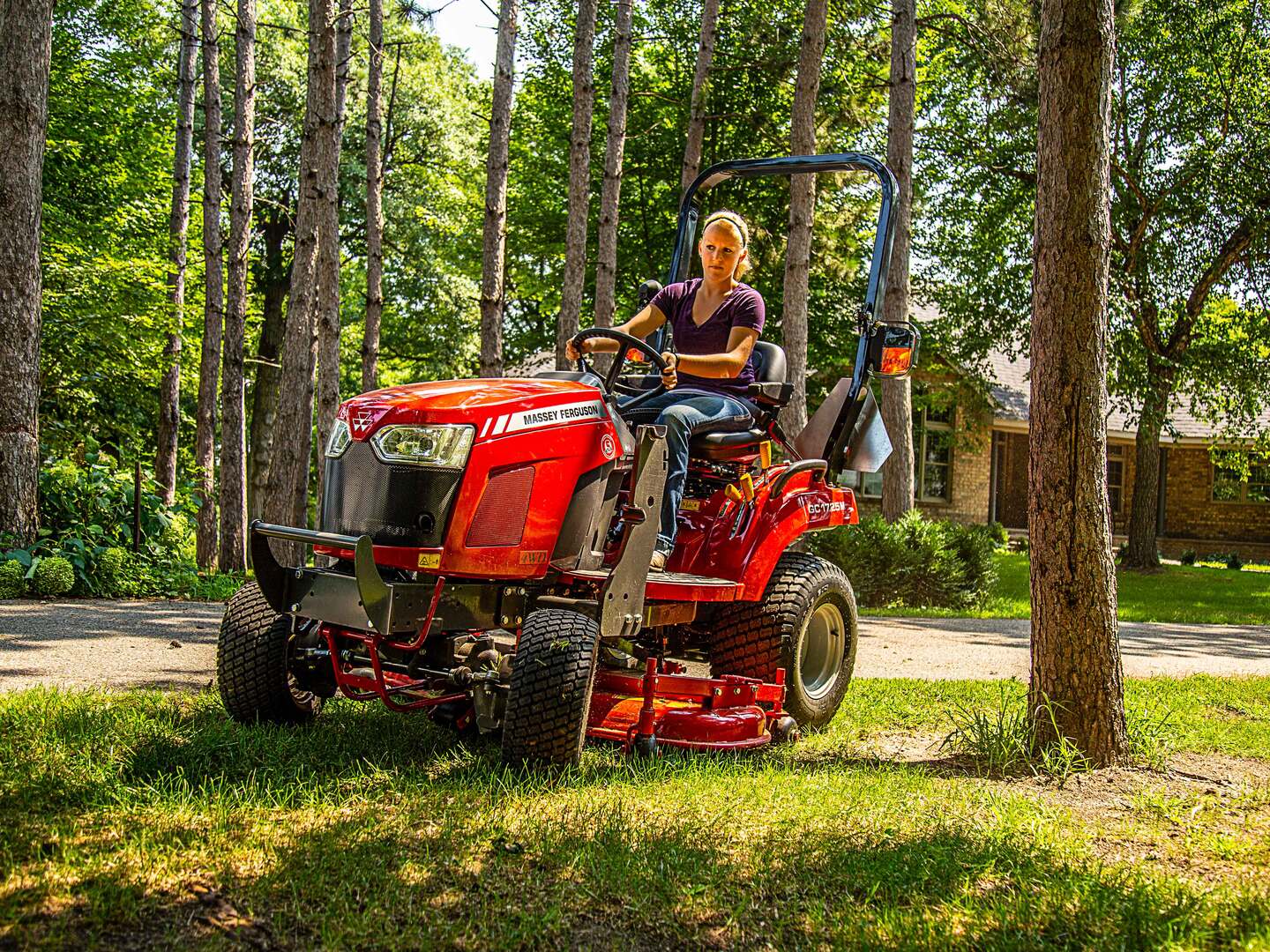 GC1725M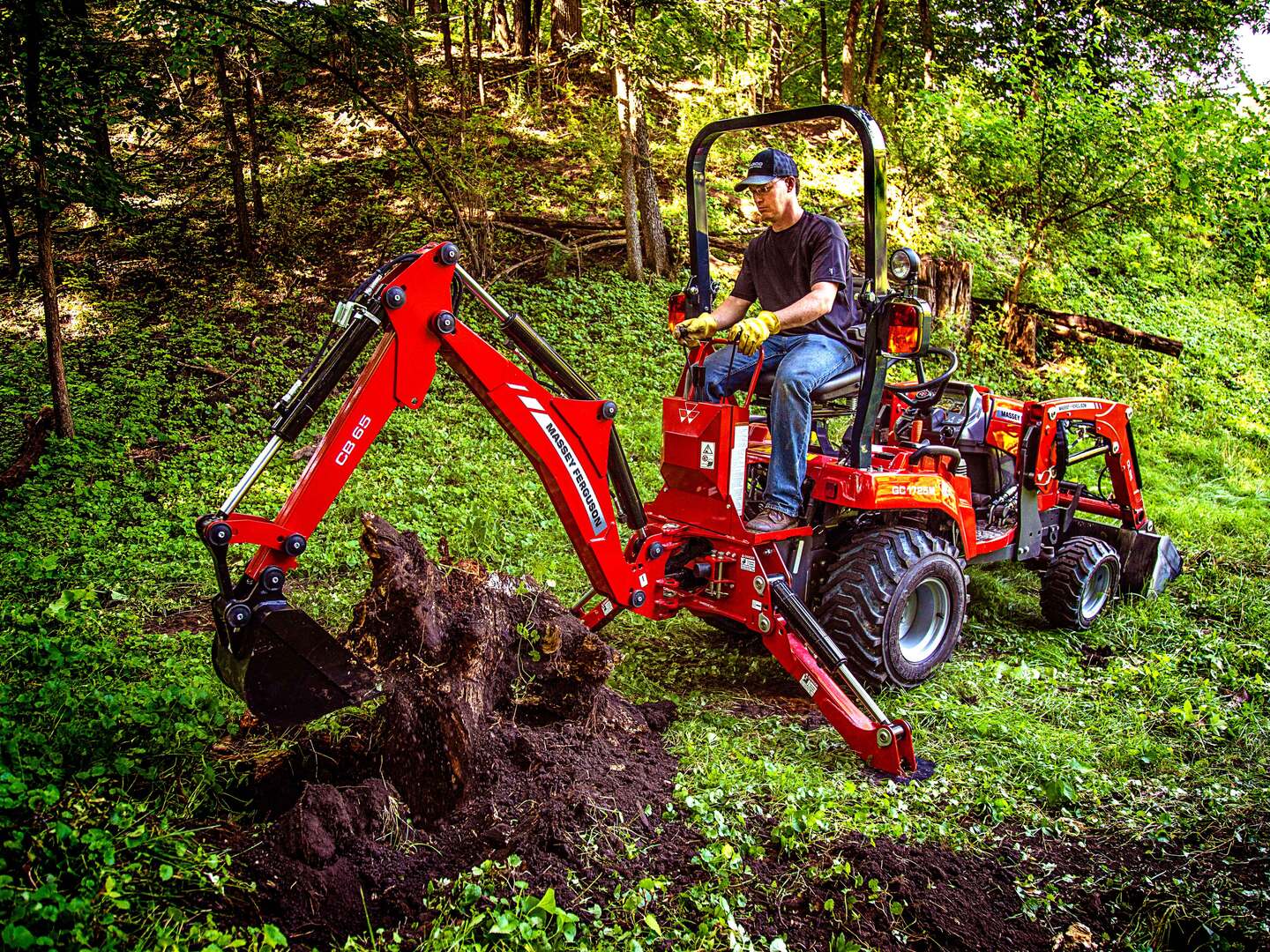 GC1725MB

The CG1700 Series brings the professional touches of a large tractor to this compact class. Both models have tilt steering, and a completely flat platform covered in a one piece rubber floor mat.
The sloped nose improves visibility whether with a loader or without. There is a covered compartment for safe storage. The GC1725M and GC1725MB include a 12V outlet, rear worklight, and arm rests.
You will immediately note the GC1700's smooth 2 range hydrostatic transmission. There are separate pedals for forward and reverse. This reduces fatigue when doing lots of direction changing. It is also simple for an operator with any level of experience to use.
The cruise control button locks ground speed which also reduces fatigue. The high hydraulic flow means that the loader and backhoe respond well to any adjustment.
There are three tire options on the GC1700 series. An R1 Agricultural tire has the deepest tread and is well suited to off-road use like in gardens and mud.
The R3 turf tire is good for lawns as it is the easiest on grass. It is also suited to snow removal, as it has a large footprint that improved traction.
The R4 industrial tires are the most common on the GC1700. These are the most balanced tire, and perform well in a variety of applications.
Massey offers three mid mount mower options. The 2315 is a 54″ mower with 3 spindles each that have 2 offset blades. It is a mulching deck and the grass has no side discharge.
The 2320 is a traditional 3-blade 54″ mower with side discharge. The 2326 is a 60″ mower deck. It is a drive over deck which allows easy hookup. The 2326 has three blades and side discharge.
A popular attachment for the GC1700 series is a front-mount snow blower.  The convenience of having the blower ahead of the operator is huge.  The 2360 snow blower has a 50″ cutting width, and a 19″ cutting height.  Hydraulic lift is standard, and chute rotation (electric or hydraulic) and hood deflector control (electric) are both optional.
The Massey Ferguson 2330 is a 43″ front mount rotary broom attachment.  It it has a 18″  diameter poly bristles and comes with hydraulic lift. Hydraulic angling is an option.  The broom is perfect for sweeping parking lots or sidewalks.
Mower Removal / Installation
Loader Removal / Installation
Backhoe Removal / Installation
Changing GC1700 Engine Air Filter
Buy the parts to complete your maintenance:
Changing GC1700 Engine Oil
Buy the parts to complete your maintenance:
Changing GC1700 Fuel Filter
Buy the parts to complete your maintenance:
Changing GC1700 Hydraulic & Transmission Filters
Buy the parts to complete your maintenance:
Other Parts for GC1700 Series