top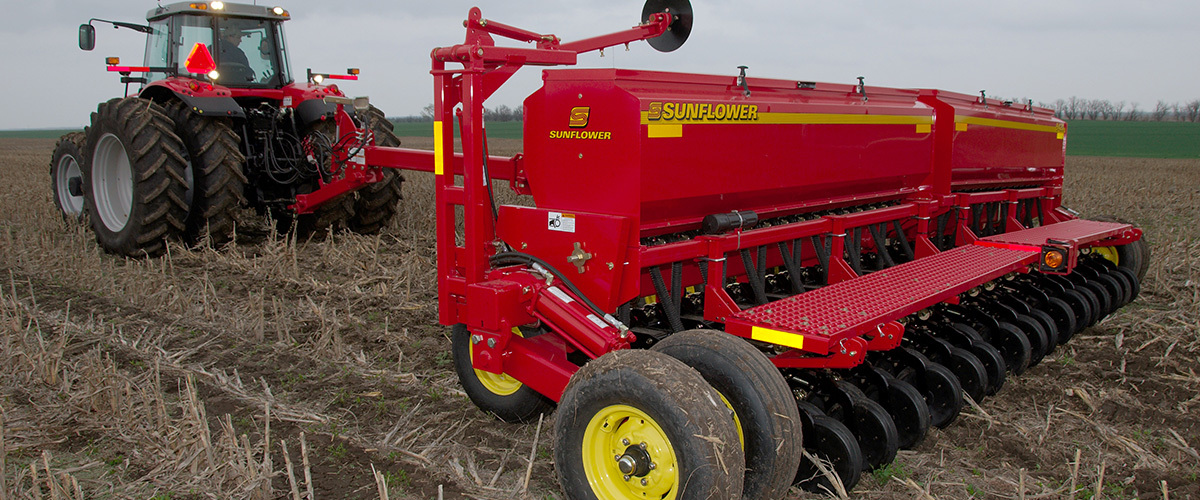 Sunflower Grain Drills
The Sunflower Model 9413 grain drill is equipped with large 3.75 bu. of seed per foot hoppers. Big capacity and ease of operation are key factors in maintaining Sunflower drills as first choice with North American farmers. Whether it's no-till, min-till or conventional seeding, the Sunflower 9413 is easily adjusted to do it all. Heavy-duty construction produces built-in weight and strength to meet the most demanding no-till conditions. If conventional or minimum tillage seeding is called for, the all-purpose "Heads Up" opener down pressures can be quickly adjusted, without tools.
Sunflower's 9421 two-section grain drill sports a narrow transport width compared to wide, rigid, mounted designs that are difficult to move between fields. Keeping the operator in mind, Sunflower's 2-section series provides valuable flexibility both during transport and in the field The "in-line" three bushel per foot grain boxes facilitate seed filling and by design align the openers for superior control, resulting in uniform seed placement. All Sunflower multi-purpose drills feature a full 8 inches of front to rear stagger between opener units. The Sunflower 9421 is an excellent alternative to a higher priced split row planter.
Sunflower's 9435 Grain Drill line features a unique frame design that delivers unmatched flexibility and seeding performance in all field conditions. The staggered grain box design eliminates all box contact and its straight end walls insure equal amounts of seed over all meters. Available in either 30′ or 40′ models and either 7.5″ or 10″ spacing, the 9435 can be tailored to your operation and be your single source for conventional seeding right through no-till. Sunflower truly is "Seeding Quality".