top
Fall Tillage Reference Guide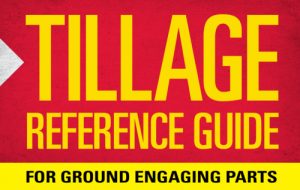 Sunflower is the industry leader in designing and manufacturing tillage tools that work precisely, efficiently and consistently with ease. As you know, the best tillage tool is only as good as the parts that engage the soil. Sunflower Genuine Tillage Parts are engineered and manufactured to deliver the superior performance you expect from our tillage tools.
Across North America, soil types vary from region to region and even field to field. These unique conditions can challenge even the best tillage tools and parts to provide optimal planting and growing conditions. This is when the strongest, sharpest and most durable tillage parts matter. Sunflower Genuine Tillage Parts get you in and out of the field with less down time for repairs, protect and manage soil, and give each plant the best opportunity to produce its maximum yield.
Our singular focus has always been tillage and we are committed to keeping your Sunflower tools operating at peak performance. Replacing worn tillage parts with genuine tillage parts from Sunflower guarantees that performance will continue. Simply put, genuine tillage parts matter to your success. And your success matters to us.\
Discs
Sunflower Discs are designed for durability to deliver superior performance in the field. Innovative design, precise materials, exacting manufacturing methods and rigorous testing combine to ensure the quality of Sunflower Genuine Tillage Parts are the best in the industry.
Material Quality Matters
The best disc blades start with the right material composition. Sunflower utilizes proprietary boron steel to provide best-in-class durability that is hard enough to break through the toughest conditions, yet provides enough flexibility and ductility to resist fracturing.
Consistency Matters
State of the art CNC machines produce an exact edge around every disc. This consistent edge allows your tillage tools to operate at peak performance and to effortlessly cut through genetically modified corn, soybean and other crop residue to create ideal growing conditions. Water quenching after heat treatment sets the blade shape memory to eliminate wobble and adds to the overall flexible performance and durability of our disc.
Quality Testing Matters
The field is not the place to test the quality of a disc. Every batch of discs goes through a battery of tests to ensure the highest quality and durability.
• Ball Testing
Sunflower disc blades are tested by forcing a one inch ball through a half-inch hole in three areas of the blade. The forced-ball test measures the metal's response to deformation and cracking, allowing our engineers to confidently project our replacement parts' reaction to field stress.
• Deflection Testing
Heavy pressure is repeatedly applied to the disc to guarantee it will return to its original shape. This ensures the correct mix of proprietary ingredients were used in the steel and confirms the toughness of the blade and its ability to withstand repeated impacts. Rocky fields can't match this test.
• Rockwell Testing
The perfect balance between strength and flexibility is imperative in ground engaging tools. If the steel is too hard it can become brittle and won't flex upon impact. However, too soft, then it won't penetrate the soil effectively and looses its edge. The Rockwell Test measures this balance in our discs to deliver consistent, reliable performance. Our discs have the ideal balance of strength and flexibility, consistently producing a 52 Rockwell score.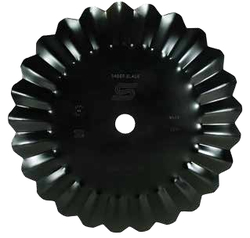 Penetrate hard soil and easily cut tough crop residue with the proprietary Sunflower Saber Blade. Saber blades pair a fluted design with a low concavity that creates a soil lifting action that is unmatched by any competitor's offering. Each blade has 25 full depth flutes and features an innovative saw tooth design that maintains its cutting ability allowing it to provide aggressive penetration throughout the life of the blade.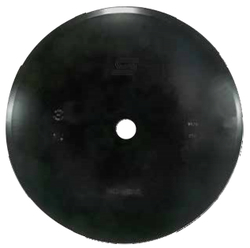 • Efficiently and effectively till and invert soil
• Wide variety of size, depth and concavity
• Various concavities allow this type of blade to be used in deep tillage or min-till applications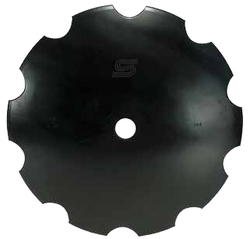 • Offer an aggressive cutting edge for thorough soil penetration
• Good for residue management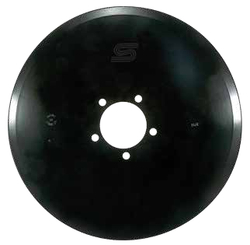 • Carefully control over soil tillage
• Suited for residue management
Coulters
Coulters come in a variety of shapes and sizes – plain, wave, and rippled. S electing the right coulter depends primarily on the farming technique, as well as soil composition, the crop being planted and the previous crop's residue. Sunflower provides a coulter for any degree of soil disturbance required.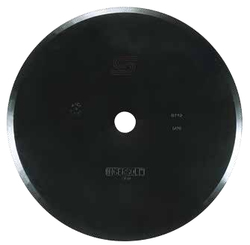 • Designed for minimum soil disturbance
• Effectively cut crop residue
• Efficiently penetrate soil
• Work well in wet conditions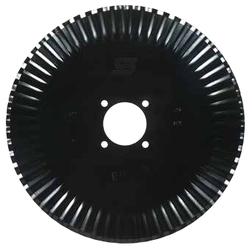 • Ideal for a wide range of soil conditions
• Works well in no-till and reduced till tillage practices
• Delivers the highest level of penetration and cutting
• Minimal amount of soil disturbance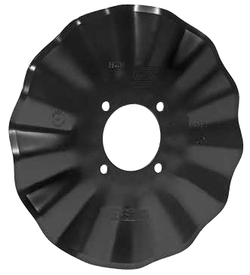 • Provides a higher degree of soil disturbance
• Cuts ground residue and gives seeds a uniform seedbed
• 8" wave are engineered to open a strip at higher speeds
• 25" wave are designed to perform at slower speeds while providing an extra fine seedbed
Sweeps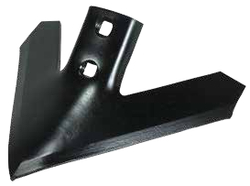 Sunflower conventional sweeps are constructed from boron steel and are designed with a medium crown. Sunflower cultivator sweeps are an excellent option where conservation tillage is preferred. Conventional sweeps also provide excellent weed control and soil agitation for good soil tilth.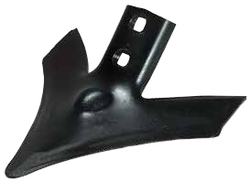 Constructed from boron steel, the Sunflower DuraWing™ design preserves the sweeps shape over time, making it one of the most durable sweeps in the market. The DuraWing features a nose flanked with curved, convex wings that improves soil flow and reduces breakage. The StemShield™ directs the flow to minimize wear on the stem and bolts for longer life.
Points & Shovels
Manufactured with high-carbon steel, Sunflower Points and Shovels are uniformly heat-treated for maximum durability. If it's a tough job, rely on Sunflower performance.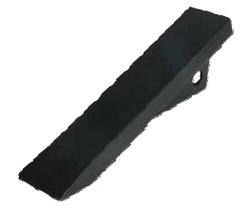 Sunflower subsoiler points are designed to penetrate and breakup deep hardpan to provide improved root penetration. Subsoilers allow for better water circulation to facilitate the growth of plant roots. A high-carbon steel base, boron steel wing and high-chrome alloy caps – resist rock chipping for longer service life. Wear areas are hard surfaced and wing options aid in improved soil disturbance and soil tilth.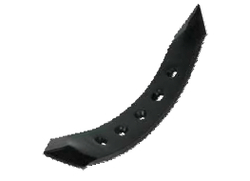 Sunflower offers a variety of chisel points and spikes suited for primary tillage practices. Sunflower chisel points offer deep tillage to loosen hardpan and aerate the soil with limited disruption. Chisel points do not invert the soil and leave adequate crop residue on top for conservation purposes.
Assemblies & Openers
Your harvest doesn't just depend on what you plant; it's how you plant that matters. If you're not using the best opener for your crop selection and soil conditions, then what's planted will never achieve its full potential. Selecting an opener is a critical decision. Sunflower Openers are constructed of boron steel for extra durability and field-tested for proven reliability. Whether a plain or assembled opener is required, Sunflower Openers are manufactured to exact original equipment manufacturer specifications, utilizing OE M-approved bearings and hubs.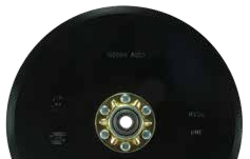 The best yield occurs when the seed is consistently centered in the trench. Precise centering is exactly what the Sunflower Assembled Opener is designed to deliver. Available with either standard bearings or heavy-duty bearings.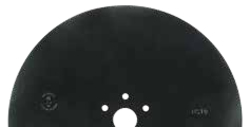 Sunflower Plain Openers deliver excellent wear for longer service life. Constructed of boron steel, it's the most durable plain opener in the market.