top
250,000th Fendt Vario
The legacy of the Fendt Vario continues. With undeniable dependability, the Fendt CVT is bringing a step-less driving experience to operators all over the world. A quarter of a million transmissions is a big milestone for Fendt. Fendt posted a complete news article here.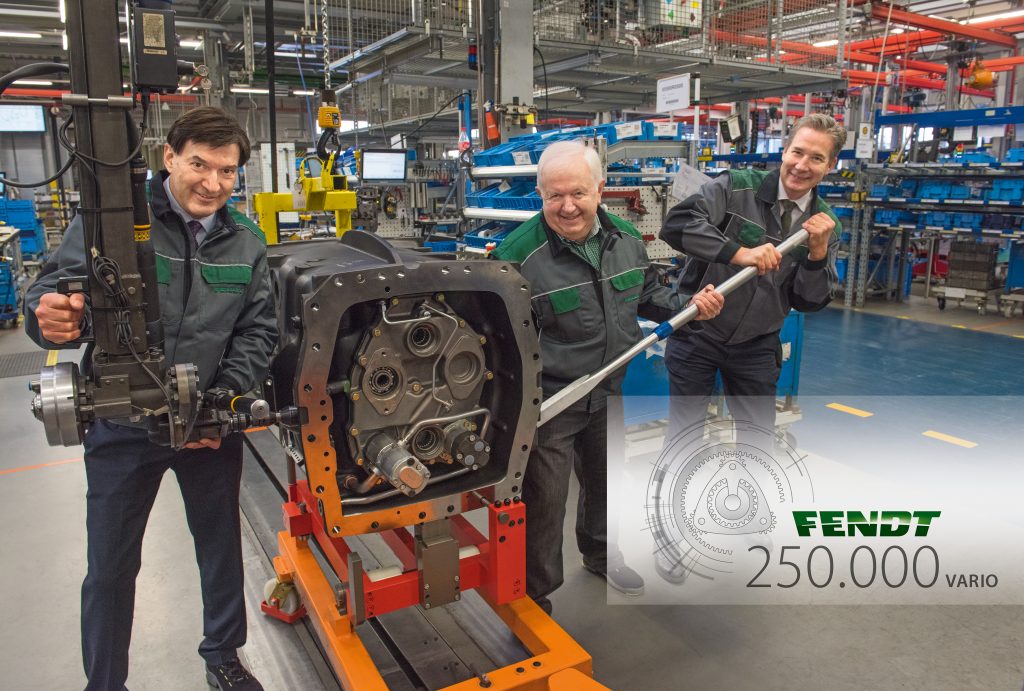 Fendt brings the 250,000th Vario transmission into the world. Is that reason to celebrate? Absolutely, says the company, which can also thank its invention of the stepless Vario drive about 20 years ago for its position as a premium brand. Every tractor that is manufactured at Marktoberdorf is now fitted with a Vario transmission. And on November 28, 2016, the 250,000th Vario unit will roll off the production line. It is an anniversary that the agricultural machinery manufacturer deserves to celebrate.

"The stepless Vario transmission is the only transmission solution for us", says Peter-Josef Paffen, talking about the decision taken over 20 years ago to go with Vario. "At the time we consciously opted for this innovative technology and started implementing it almost right away in every range and power level. We now offer the solution for every power band, from 50 to 500 HP. Whatever the operation, the customer can always carry out their work at the right speed. There's just no alternative for us", says the CEO of AGCO/Fendt.

250,000 Vario transmissions in just over 20 years; the achievement speaks for itself. With its continuously variable drive, Fendt has made technological history. In 1995, the agricultural machinery manufacturer launched the world's first tractor with a stepless variable drive – the Vario transmission. This innovation from Fendt revolutionised agricultural technology and has been setting new standards in transmission manufacturing ever since. Due to the continuously variable drive, the tractor driver can now concentrate on what is really important; the work going on behind, in front or alongside the tractor. Fendt tractors drive at the ideal speed for the job at hand – from 20 metres to 60 kilometres per hour.

250,000 Vario transmissions testify to the overall quality of Fendt's own transmission manufacturing plant in Marktoberdorf. 880 employees are passionately involved in the building of the transmission and rear axle assembly. In the history of the production of stepless transmissions, Fendt has relied exclusively on its internal expertise and decades of experience. Tons and tons of iron and steel are delivered every day to Fendt and are transformed inhouse into every single part of the transmission, be it the gears, shafts or casings.

Whether it is parts manufacture or for the assembly production, everything happens under one roof. Around 100 transmissions are produced every day; every six minutes a complete drive rolls off the production line. It is a standard process that every component and even the entire plant are subject to multiple quality checks. Fendt gives 100% quality in return for the loyalty of its hundreds of thousands of customers.
Complete article found here.