top
A New Year Brings New Tractors to Maple Lane (Fendt & Massey)
There is always something new on the horizon. This year both Fendt and Massey Ferguson have some new offerings. Maple Lane has seen two new machines delivered in the last few days. Lets take a quick look at what these new models bring to the table
Fendt 900 Series
The Fendt 936 sitting on the lot has more than just a redesigned hood to offer. With a rating of 300 PTO HP this is the flagship of the fleet. But even more than horsepower, the conversation has to turn to fuel economy and emissions standards. This model is now Tier 4 Final compliant, and still maintains Fendt's reputation for fuel efficiency. Look for more information on all that means to come. Check out more information on the full range here.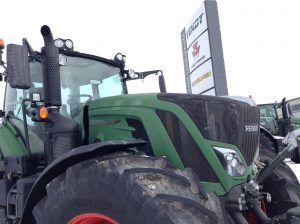 Massey Ferguson 8700 Series
Maple Lane also had a big red machine roll onto the yard. It weighs in with 205 PTO HP offering stable and efficient power. The Dyna-VT is a transmission without limits. When activated, Dynamic Tractor Management (DTM) works in conjunction with the Dyna-VT transmission, in either lever or pedal mode, to automatically control engine speed according to the load on the tractor, maintaining the required forward speed whilst keeping rpm to the minimum necessary. The Massey Ferguson 8727 represents exciting progress in the Massey Ferguson high-horsepower segment. Check out the full lineup here.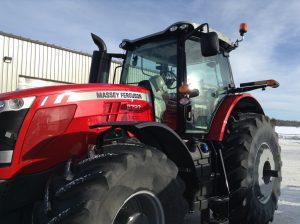 Maple Lane is prepared to serve you with these new machines, as we keep our customers on the cutting edge of technology and efficiency.