top
Manitou Telehandlers and Skid Loaders: Designed for You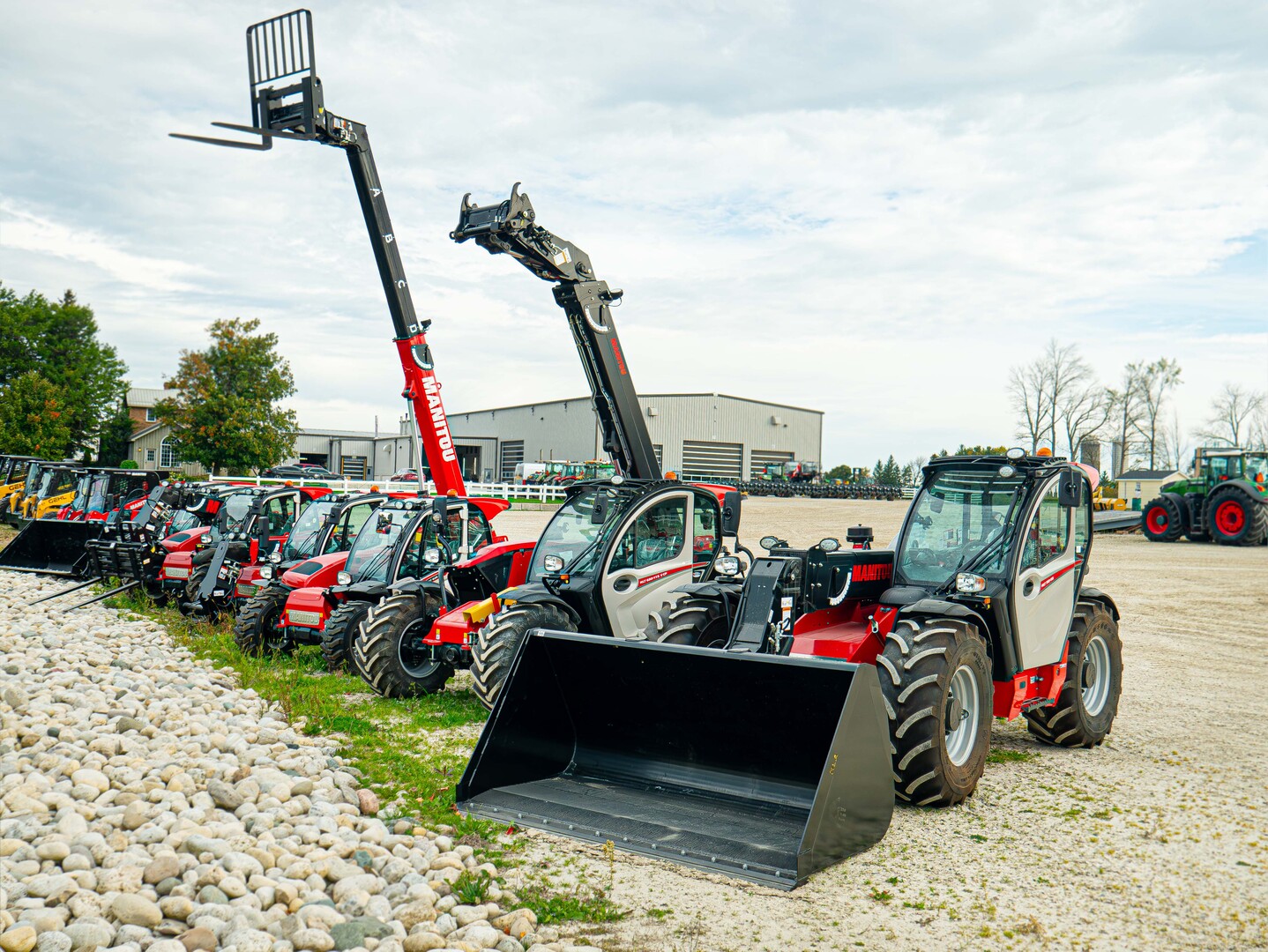 Manitou has one priority: To create Value for their customers. They create useful machines, and continue to improve them year after year. They design their material handling equipment to be comfortable to operate, and environmentally friendly.
You will never need to worry about your telehandler being safe or not. Creating machines that meet the industry's highest standards for safety is one of Manitou's most important commitments.
Maple Lane Farm Service has been a Manitou Dealer since 2011, and we stand behind this innovative brand. They has an excellent warranty program, offering up to 6 years and 6,000 hours. We cover all warranty work that you require. We also offer regular Manitou Telehandler and Skid Loader maintenance.
Equipment
Telehandlers
Telehandlers have long been a versatile machine for many industries. Maple Lane provides them for agricultural, construction, and industrial applications.
Telehandlers can tackle so many different working conditions. They work well in barns, reaching farther and higher than tractors can. They also work great on construction sites, moving pallets of wood and stone.
One issue with any piece of equipment is navigating over rough or slippery ground. Thankfully, these "teles" have excellent traction in any ground condition. You can also use the boom to reach over ground you cannot drive on.
Manitou telehandlers are efficient and comfortable to drive. Manitou designs them to diminish the amount of fatigue you experience, which saves you time and money.
They also have a variety of applications. There are a large number of attachments available for telehandlers. These attachments make it more versatile, so you don't need to own as many machines.
Skid Loaders
Manitou skid and track loaders have excellent lifting capacity of up to 3300 pounds. There are very few applications they cannot handle.
Because of their compact size, they work well in confined spaces, like barns or construction sites. Despite their small size, they have impressive lifting capabilities and have great lift height.
Skid loaders are especially useful in farming and construction. There are a number of attachments you can get. These enable you to use your skid loader for all applications. Whether you need to plow snow, move hay bales, or lift pallets, Manitou skid loaders can tackle any task.
Service and Maintenance
Warranty
Manitou has a variety of warranty options to choose from for their equipment. A base warranty covers all systems for 2 years or 2,000 hours. You also have the option of extending the warranty up to 6 years or 6,000 hours.
Maple Lane's technicians perform all maintenance to your telehandler. They always use original Manitou parts, and our service department plans all maintenance so that it is not disruptive to you. You can always trust Maple Lane to honour warranty service for your machine.
Low Total Cost of Operation (TCO)
Another primary commitment for Manitou is keeping your total cost of ownership low. Not only do their machines run efficiently, they are also cost effective. Manitou has excellent cost breakdowns for their machines. These allow you to visualize what the total cost will be.
They also have come up with different systems to keep your machine running smoothly. One of these is the automatic greasing system. This keeps any grease points on the chassis and boom lubricated and lowers your service cost.
Telehandler Solutions
Agriculture
Farming is a diverse world, and you need equipment that can handle any task. Manitou designs their telehandlers to do that.
There are many advantages to using telehandlers in farming.
Ability to navigate any ground condition
360 Degree visibility
They are comfortable and maneuverable
They meet strict safety requirements
They are efficient
They are versatile and complete jobs that normally might take multiple machines
There are many applications you can use them with as well. You can use them to stack hay bales, dig, and scrape manure for farming applications.
Manitou has many attachments available for their telehandlers, including forks, buckets, and grapples. You can exchange these in minutes, which saves time, and meets the needs of multiple machines.
Construction
On a construction site, telehandlers meet all sorts of needs. You need equipment that can transport heavy objects, and lift them higher than skid loaders can reach.
Manitou telehandlers meet these needs. They are compact, yet powerful and can lift objects to great heights. They are useful in all sorts of trades:
Masonry
Carpentry
Framing
Roofing
Siding
It is safe to say that telehandlers are productive, versatile machines. They are both safe, and efficient, and they can cover a multitude of jobs.
Maple Lane Farm Service has a variety of telehandlers available. You can contact us to speak to one of our sales team. They can answer any questions you may have, and give you specifics such as lift capacity and warranty.
More Manitou Equipment