top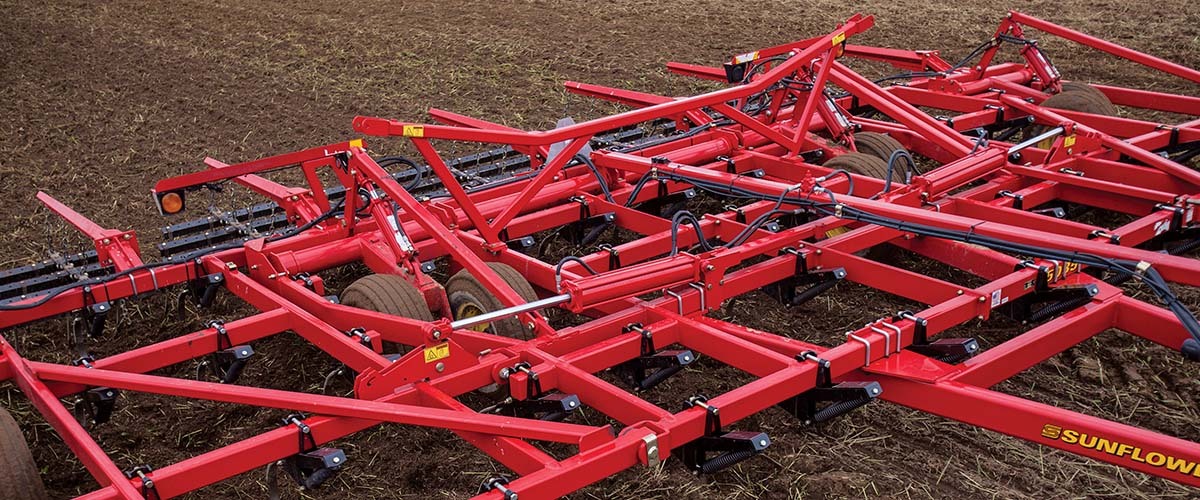 Sunflower Field Cultivators

Sunflower's Model 5035 Field Cultivator features heavy construction, outstanding clearance and superb flotation. The 3″ x 4″ rectangular tube frame provides the strength today's high horsepower tractors require, and Sunflower's computer design features optimum shank placement for unmatched clearance. The Model 5035 features single point depth control with rephasing lift cylinders…all covered under our three year warranty. Shanks are available in either spring tension or S-tine design and offer up to 190 pounds of point load for extra tough conditions. Walking tandems and 9.5L tires provide the necessary flotation farmers require of a field cultivator, and the self leveling hitch maintains a level frame from the front to rear regardless of operating depth.
The 5056 Series feature outstanding ground clearance, and superb flotation. The truss style frame provides the strength required by today's high horsepower tractors and the computer aided design utilizing Finite Element Analysis, ensures the product will stand up to the stresses of difficult soil and terrain conditions. Deep frames and optimum shank placement account for unmatched residue flow through the tool. The single point depth control, rephrasing lift system, shanks either the spring tension (190 lb. point load) or the S-tine design (160 lb. point load), and heavy duty walking tandems with large diameter "Slip-In" spindles are all covered by the Sunflower limited three-year warranty. Chose between the standard self-leveling or the optional floating tongue which is made available for hilly or undulating terrain to maintain the same level operating position.
Performing multiple tillage operations in a single pass saves you many trips across your fields. By introducing your farm to the Sunflower 6433 Land Finisher, not only will you be a more efficient operator but you can directly cut your farm input cost in fuel use, tractor wear, multiple implement cost and anti-compaction campaigns.